Bulgarian Christmas Traditions
Christmas is a very important time of year for us in Bulgaria, with lots of traditions to follow. With our office here in beautiful Sofia, Bulgaria, we're proud to embrace a number of unique Christmas traditions! Christmas is one of the most loved holidays in our country and a time when families get together to both celebrate the holiday, and the religious message behind it. Despite most Bulgarians are Eastern Orthodox, we follow the Gregorian calendar which means we celebrate Christmas on December 25th.
Christmas lasts 3 days!
Starting on the 25th, just after Christmas Eve when we believe Jesus Christ was born, the Christmas festivities begin. Тhey also continue during the following two days, when we have two more reasons for celebration. On the 26th we honour all people named Hristo, Hristina and Joseph (Josif). On the next day,  December 27th, we congratulate people carrying the names Stefan, Stoyan, Stefka.
Fasting
On Christmas Eve, we eat only an odd number of vegan dishes (just like during the fasts). Some of the foods we enjoy are grape leaves stuffed with rice, pumpkin dishes and stuffed peppers. These are usually accompanied by traditional bread containing fortunes, revealing what the next year holds for each family member. After dinner is finished, we leave the dishes and leftovers on the table all night!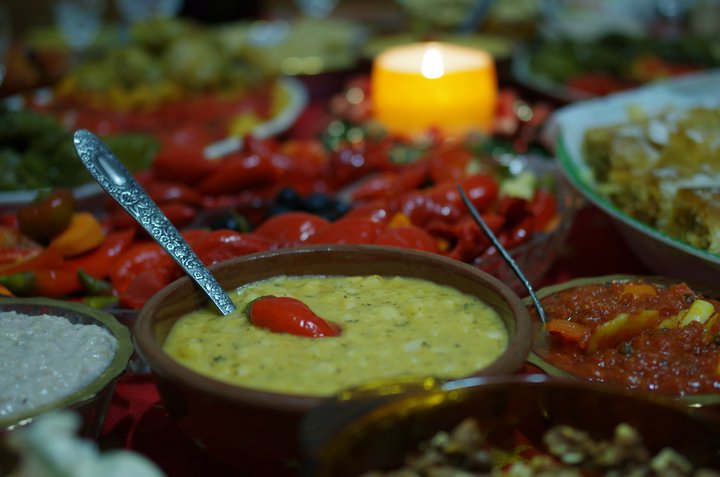 This is what a traditional Bulgarian Christmas dinner looks like. Beans, red peppers, sour cabbadge, pickled veggies, bread, nuts and fruit make the table look very festive!
After Dinner Koleduvane
Koleduvane is a Christmas eve ritual, which happens at midnight. After it ends, we know that Christmas is here and Jesus Christ has been born. In Koleduvane, only young boys and unmarried men take part, called the Koledari. They gather in the house of the man leading the group, dressed in traditional attire. Once they've gathered together, they go from house to house singing Christmas carols. The rituals they perform all aim to bring the family they visit longevity, health, prosperity, and luck. They typically have a song for each member of the family. One for the head of the home, one for his wife. There are songs for the small children, for the unmarried girls and boys, etc. There are even songs dedicated to the household's animals – cows, goats, sheep, etc.!
Survakane Ritual
To finish off the festive season, our final tradition of the year is survakane on New Year's Day. It is essentially children beating adults on the back with elaborately decorated sticks (lightly, of course!). This, alongside incantations, are brings good luck to the adult in the New Year. Though the ritual varies from region to region, survakane is popular throughout Bulgaria. The stick, named a survachka or survaknitsa, is actually a cornel branch adorned with yarn, wool, dried fruit, popcorn, beads and other small items.
As you can see, we take Christmas pretty seriously here in Bulgaria and we're proud of our rich culture and traditions! So from us at TransGlobe International, have a fantastic Christmas and we wish you a happy, healthy and prosperous New Year. If you'd also like to wish us something for the Christmas holidays, or have a special request, you can directly write to us at hello@transglobeinternational.com or use the button below to get your free quote.