Today the words translation and localization are much more popular than when we were kids. Back then there wasn't so much advertising, digital marketing or social networks. Even the mighty Internet was smaller! The only times we heard of translation was in relation to boring 'grown-up' documents. Papers like diplomas and birth certificates, etc. needed for some boring grown-up stuff. Translation was, it seemed, something that usually someone else wants from you. Something you have to do. I think this is the reason why cheap translation is something that everyone wants. How could you really know the fair price of something you don't understand? So, what makes a translation service cheap? What are the factors that can affect the price of translation? And what the heck does cheap translation mean anyway? Well… I can tell you one thing for sure:
Cheap translation does not always mean bad traslation
But you won't expect it to be very good either, right?…
As with most things, the truth is somewhere in the middle. We all know this from our daily life and by looking at the most common things we purchase or pay for. Our minds create a mental database of "fair" prices for various known goods or services. But there's a catch! Our brains include in the same database many things we don't normally use or buy. And strangely enough, it assignes "fair" prices to them as well. However wrong they may be. So what does this mean?
More or less this is applicable to all of us. We're often surprised by the price of technologies or services we don't normally use. That is, if we didn't bother checking them online beforehand, of course. The less you care about something, the less you know about that "something". If you don't know much about the different localization and translation services, any price may seem too high. But with some easy research you can get a baseline to align your fair price to the actual average price.
Still, localization and translation are still largely considered something that companies have to do. But wait, there is actually no real problem with the last sentence! Translation and localization are indeed used as tools that facilitate international market reach, expansion, business growth, etc. The problem is that just a handful of global or local businesses actually understand this field and the benefits they can get. Only a few realize that…
"It's not the price you pay for translation that's important. What matters is the value you get from that translation!" –G.S.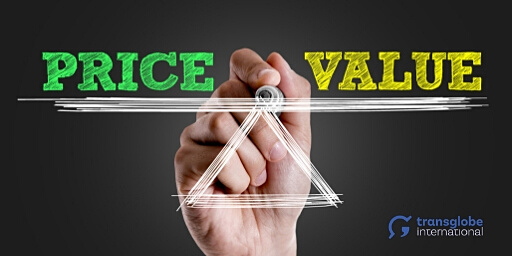 In localization, the more you focus on price, the less you see the value of your localized content. Image: © TransGlobe International
How does price relate to value?
Cheap translation may just mean "less" translation 
It is true that with today's variety of LSPs there are lots of options from which to choose. And price is just one of the factors that should affect your decision. What may seem as a cheap translation option may in fact be just a more basic translation service. And that could mean you would have to pay more for any additional service you thought was included. That's why first you need to be clear about what you expect from your translated content.
"In localization, as in life, you get what you pay for." –G.S.
It's always a good tactic to have a conversation with your localization partner about your actual needs and expectations. And then it's also advisable to learn about the different service levels they may offer. It could turn out that what you thought as "translating the company website" might also require keyword research and localization, marketing translation, SEO and in-context review. Knowing this, you will be aware of all benefits you get from properly localizing your content. And this means that you'll have a more realistic idea of the efforts needed, the skills required and of course – the value of the end result. For example, in marketing translation if you focus on the value of your brand and not on the price, you are already on the right path. Be sure of what the final result should look like and this will help your LSP to really understand your needs. This is when you'll be ready to objectively evaluate the price, at least to a greater degree.
Okay, so when you have this information, now it should be ok to go for the cheapest translation proposal, right? Well, certainly more than before, but there are other factors to consider.
LSP characteristics that affect translation price
Language coverage
As a general rule, large localization service providers offer more languages than smaller ones. And being larger means you have more costs for hardware and software infrastructure, humanpower, business operations, etc. More often than not this correlates with a higher translation price, leaving the cheap translation options with the smaller LSPs.  
Productivity
Another price-affecting factor is the company's productivity for each language and overall. Do they have 50 translators in total or 50 per language? Are they using a modern CMS to facilitate their workflows, or the old-but-gold MS Excel? If your LSP has low productivity and you have a huge project with a short deadline, they might still be able to do it, but at a much higher price. SImply because they'd have to use more expensive translators outside their smaller database.
Certifications
The regular customers of translation services usually overlook industry standard certifications as a benefit. Most of them think they don't change anything – "If you're good, you're good, right"? Though certification can also raise translation price, it has many benefits. For example, the ISO 17100 standard guarantees that all linguists involved in your projects are required to have certain minimal qualifications. Mostly, this concerns linguistic experience and competences on one side and process & workflow optimizations. You can be sure that the company follows strict steps, each of which guarantees the quality of your translation. 
How you can save money on translation
With enough knowledge and some planning skills every company can lower their potential translation and localization costs. Having a clear idea of your current content and its purpose will allow you to identify and prioritize the different translation tasks. With some clever techniques and the latest CAT tools your LSP can save you time and money. This is how you can get 'cheap translation' prices without any comprimises in quality or service level. We have covered this topic in greater detail in our blog, so be sure to check out our tips for saving money on translation!
Well, this is our take on cheap translation services, their effect on your brand value and the factors that affect their price. Saving money is important, but not at the expense of your brand value. Keep that in mind and don't hesitate to leave us your comment here or at hello@transglobeinternational.com. And click the button below if you need a quote for our services :).